EDITORIAL
No Common Position
By Frank Slijper – PAX
The murder of journalist Jamal Khashoggi in the Saudi consulate in Istanbul in October put the Saudi royal family under more pressure than the immense human suffering in Yemen largely caused by a coalition led by Saudi Arabia and the United Arab Emirates (UAE).
Especially for Yemenites, the public outcry after Khashoggi's killing  is a cynical contrast with the lack of media attention for the many tens of thousands of people killed in the conflict in Yemen since the start of the Saudi/UAE-led coalition's military offensive to oust the armed anti-government opposition led by Houthi forces. Independent casualty reporting organisation ACLED (Armed Conflict Location and Event Data Project) estimates that 70,000-80,000 people have been killed in Yemen since March 2015.
According to ACLED the number is increasing by more than 2,000 per month, with fighting intensifying around the port of Hodeidah, key for aid and other imports of first needs. Importantly, ACLED does not include those dying of malnutrition, or disease, such as cholera – causes that are however directly related to the war. Indeed ACLED's data point to significantly more deaths than the 10,000 number that is used by most media outlets  for the two years.
Another independent monitoring group, the Yemen Data Project, has been collecting data on the location and targets of the aerial war. It says that the coalition carried out a total of 16,749 air raids from March 26, 2015 to March 25, 2018, or an average of 15 bombing runs per day – 31% targeted non-military sites. While the Saudis and their backers continue to call these 'mistakes', others say many of the civilian targets, including hospitals, school children, fishing boats, factories and funerals, must have been hit on purpose.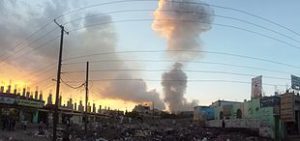 Whereas smaller arms supplying countries in Europe have applied more restraint in dealing with arms exports related to the Yemen conflict, the three main suppliers to the region – the US, UK and France – have seen their exports grow significantly since 2015. The murder of Khashoggi has not changed that reality so far. "They're spending $110 billion on military equipment and on things that create jobs […] for this country. I don't like the concept of stopping an investment of $110 billion into the United States", was the unsurprising immediate reaction of US president Trump, hugely inflating the actual value of ongoing military deals.
For the UK and France it is hardly different, though they are not as blunt as Trump. It was hard to escape the irony of French president Macron hosting the Paris Peace Forum earlier this month. "I am sorry Dear @EmmanuelMacron. You can't enjoy the idea of building peace while you are selling weapons to #Saudis and ignoring the disaster in #Yemen. Voices of victims may not be loud enough now, but will never vanish and their suffering will be part of your resumé", tweeted well-known Yemeni activist Radhya Almutawakel.
In London, where CAAT is appealing a court decision justifying record arms exports to Saudi Arabia , the Tory government is pushing arms exports more than ever in the wake of Brexit. Others, such as Spain, famously backtracked on an earlier pledge to stop exporting bombs to Saudi Arabia, fearing the cancellation of a much larger naval deal with the Gulf state. In Germany an ongoing naval deal is complicating Merkel's call to take steps at a European level.
The EU's 2008 Common Position on arms exports is under review this year. Not much real change to its text, nor to the accompanying User's Guide is expected. And while the position may be common, its implementation is definitely not. With final responsibility over arms export decisions located in national capitals, EU export control policy is mostly the good intention of some states to apply "high common standards" against the dominant arms exporting countries for whom such exports are a major foreign policy instrument, if not the lifeline for its industry.
Meanwhile, three times since 2016, the European Parliament has adopted (non-binding) resolutions including calls for a EU arms embargo against Saudi Arabia. So far these calls did not have any real impact – although more and more states have indicated it can't be business as usual any longer. While the hurdles remain massive as ever, it would be welcome if all parties that have supported the embargo in the EP, would start campaigning in their home constituencies for national back-up. With EP elections in May 2019 it would be better late than never.
UN GENERAL ASSEMBLY
FIRST COMMITTEE, 31st meeting – UN General Assembly, 73rd session | 9 October 2018 |
GA/DIS/3598
Making economic case for disarmament, First Committee delegates issue calls to trim soaring military budgets, reinvest funds in vital 2030 Agenda goals.
FIRST COMMITTEE, 31st meeting – UN General Assembly, 73rd session | 12 October 2018 |
GA/DIS/3601
First Committee delegates discuss best tools for fighting illegal arms trade, amid calls to boost control of conventional weapons.
FIRST COMMITTEE, 31st meeting – UN General Assembly, 73rd session | 25 October 2018 |
GA/DIS/3610
Amid growing humanitarian toll from spread of conventional weapons, delegates in First Committee share strategies for combating illegal arms sales.
FIRST COMMITTEE, 31st meeting – UN General Assembly, 73rd session | 26 October 2018 |
GA/DIS/3611
First Committee weighs potential risks of new technologies as Members exchange views on how to control lethal autonomous weapons.
(To be continued in the next Bulletin.)
UN PROGRAMME OF ACTION
to Prevent, Combat and Eradicate the Illicit Trade in Small Arms and Light Weapons in All Its Aspects
Quick Guide to the Results of the Third Review Conference on the Illicit Trade in Small Arms and Light Weapons  | October 2018 | International Action Network on Small Arms
This quick guide provides an overview of key outcomes of the third Review Conference on the Programme of Action to Reduce, Combat, and Eradicate the Illicit Trade in Small Arms and Light Weapons in All Its Aspects (PoA). It includes suggested follow-up actions, primarily focused on analysts, activists, and diplomats.
Summary of the Outcome of the Third Review Conference on the Illicit Trade in Small Arms and Light Weapons  | October 2018 | International Action Network on Small Arms
This document highlights the main outcomes of the United Nations conference held in June 2018 to review action to prevent the illicit trade in small arms and light weapons. The thematic summaries in this document makes it easier for officials and other stakeholders to quickly pinpoint the key commitments made at the conference by the participating States. The outcomes are summarized and organized by topic, and include references to the paragraphs in the official conference report.
UN ARMS TRADE TREATY
The Arms Trade Treaty: Where 46% Eat Free  | 3 September 2018 | National Rifle Association | The Daily Caller
The Fourth Conference of States Parties (CSP) to the Arms Trade Treaty (ATT) concluded August 24th after yet another week of discussions on little more than administrative procedures and bureaucratic policies. Now, almost four years after it entered into force, the ATT continues to try to expand and remain relevant despite lacking the membership of major arms exporters China and Russia, importers such as India, and having a body composed of States Parties either unwilling or unable to comply with its most fundamental obligations.
Lebanon's Parliament approves Arms Trade Treaty , angering Hezbollah | 25 September 2018 | The New Arab
'Tactical' Withdrawal of Future, LF Deputies From Parliament Session | 26 September 2018 | Asharq al-Awsat
Lebanon's Parliament has ratified the international Arms Trade Treaty, angering Hezbollah legislators, some of whom walked out in protest. Prime Minister designate Saad Hariri said after the treaty was approved that it has nothing to do with Hezbollah's weapons.
Pressure mounts on East African Community States to ratify the Arms Trade Treaty  | 8 October 2018 | The Guardian (Dar es Salaam) | IPP Media
A seminar on the ATT and its complementarities to the Regional Arms Control Instruments for Partner States, organised by the East African Legislative Assembly (EALA) and International Committee of the Red Cross (ICRC), took place in Arusha over the weekend. EALA member Pierre Celestin Rwigema, speaking on behalf of Speaker Ngoga Karoli Martin, said it is vital for the region to seriously tackle the matter of illegal arms, adding that the security challenges are more of a concern for intra-state rather than inter-state initiatives.
RDC: une ONG demande une règlementation sur le commerce des armes légères | 31 October 2018 | RFI
L'organisation non gouvernementale Cri de secours contre la prolifération des armes légères (Crispal-Afrique), qui lutte contre a circulation incontrôlée des armes légères en Afrique centrale, a déposé ce mardi 30 octobre au bureau du président de l'Assemblée nationale, Aubin Minaku, un mémorandum en faveur de la ratification du traité sur le commerce des armes par le Parlement de la RDC. L'ONG estime cette ratification serait un pas de géant.
AFRICA
Namibia operating FN-6 missiles | 30 August 2018 | DefenceWeb
It has been revealed that Namibia is using Chinese FN-6 man-portable surface-to-air missiles, which were shown during the recent Heroes' Day celebrations.
Kenya receives Fennec helicopters | 6 September 2018 |  IHS Jane's Defence Weekly
The Kenya Air Force (KAF) has taken delivery of at least four Airbus H125M (formerly designated the AS550) Fennec helicopters, according to photographs released on social media.
Rippel Effect Partnering with FN Herstal | 17 September 2018 | Rippel Effect Systems | DefenceWeb
Rippel Effect Systems, in yet another cooperation with a well-known international manufacturer, has partnered with FN Herstal in providing a unique 40mm solution to a third-party client. Rippel, being internationally recognized as the pioneer of the 40mm Medium Velocity (40mm MV) concept, is already the chosen partner for 40mm MV ammunition manufacturers around the globe.
Enhanced Mbombe | 20 September 2018 | Africa Aerospace & Defence 2018 | IHS Jane's 360
South Africa's Paramount Group is showing a production standard version of its latest Mbombe 8 in the infantry fighting vehicle (IFV) configuration. The prototype of the Mbombe 8 was shown for the first time at the Kazakhstan Defence Expo (KADEX) held in June 2016 under the local name of the Barys. It has remained there since and feedback from extensive customer trials has been fed into the second example, which is to production standard.
Paramount and ST Engineering jointly market Belrex vehicles | 20 September 2018 | DefenceWeb
Paramount Group and Singapore's ST Engineering have announced they will collaborate on marketing the co-developed Belrex range of vehicles internationally.
Paramount unveils SWIFT weapons and sensor suite for jets | 21 September 2018 | DefenceWeb
Paramount Group has unveiled its new Smart Weapons Integration on Fast-Jet Trainers (SWIFT) mission system, which it is marketing on the Leonardo M-345 jet trainer that is being marketed in Africa.
Turkey donates military hardware to Gambia | 27 September 2018 | Army Recognition
Turkey on Monday donated military equipment to Gambia at latter's military headquarters in the capital, Banjul. Among the donated items were 5,000 sets of uniforms, 1,359 cartridges and belts, 5,000 water bottles, 50 five-man tents and 50 20-man tents.
UN special envoy says Central African Republic need for weapons is undeniable, but wants transparency  | 27 September 2018 | The Defense Post
The United Nations special envoy to the Central African Republic called on Thursday, September 27 for transparency on the flow of arms into the war-torn country and urged diplomatic "coherence" as Russia's role in the country grows. In an interview with AFP, U.N. Special Representative Parfait Onanga-Anyanga, whose term expires at the end of the year, said he felt "a measured, but definite, hope" for Central African Republic even as armed groups covet its natural wealth.
Cash-strapped Denel denies being approached by Saudi government for arms deal | 4 October 2018 | Mail & Guardian
State-owned arms manufacturer Denel has denied it is in talks with the Saudi Arabian government over a procurement deal despite reports the public enterprises department has confirmed the discussions. Saudi Arabia, which has been heavily criticised for its role in the war in Yemen, has said that it is in talks with "all major South African companies", according to news agency Reuters.
Illegal arms to be wiped out of EAC | 7 October 2018 | The Exchange
Stakeholders keen to reduce the proliferation of Small and Light Weapons (SALW) now want EAC Partner States to ratify the Arms Trade Treaty (ATT) to mop out illegal arms, EAC secretariat has said. Last Friday a seminar on Arms Trade Treaty and its Complementarity to the Regional Arms Control Instruments for Partner States organised by the EALA and the International Committee of the Red Cross (ICRC) took place in Arusha.
Egypt Goes on an Arms Spending Spree | 9 October 2018 | Stratfor
Over the past few years, Egypt has opened the checkbook, embarking on an arms purchasing program that has quickly made it one of the biggest importers of weapons in the world. The outlay of cash, however, is all the more remarkable given Egypt's fragile economic situation and its lack of a major conventional adversary. Its motivations stem not so much from a military need but from a desire to regain the influence of a country that is used to throwing its weight around the region. Ultimately, though, simple economics might curtail the spending spree.
Algeria likely customer for additional Fuchs-2 vehicles | 12 October 2018 | DefenceWeb
Algeria is believed to be behind an order for components for the manufacture of Fuchs-2 armoured vehicles from Rheinmetall worth over a hundred million euros.
Zambia furious at presidential jet purchase claims | 15 October 2018 | The East African
The Zambia government reacted angrily to reports that it has bought an expensive jet for President Edgar Lungu. Local media quoted Russia's Sukhoi Civil Aircraft (GSS) Vice-President Yevgeny Andrachnikov saying the aircraft costs between $45 million and $49 million.
Egypt: France flouts international law by continuing to export arms used in deadly crackdowns | 16 October 2018 | Amnesty International
An Amnesty International investigation published today reveals that armoured personnel carriers supplied by France were used with deadly effect by the Egyptian security forces to violently and repeatedly disperse protests and crush dissent.
Zambia denies USD400 million Israeli deal  | 17 October 2018 |  IHS Jane's Defence Weekly
Zambia's defence minister has released a statement denying a report that his government is close to signing a second USD400 million deal with Israeli companies.
South Africa could be complicit in war crimes by Saudi Arabia  | 23 October 2018 | City Press
South Africa's state-owned defence firm, Denel, is desperately short of funds, so, with recent news that Saudi Arabian Military Industries was considering an equity stake in Denel, officials at the department of public enterprises might have rejoiced at the thought of the cash injection. But what price tag has been attached to the Denel buy-in – and other Saudi investments in South Africa?
The Pakistani government's Economic Coordination Committee okays sale of JF-17 to Nigeria for $184.3m | 24 October 2018 | The Express Tribune
The Economic Coordination Committee (ECC) of the Cabinet has approved the issuance of a certificate of sovereign guarantee for the sale of three JF-17 aircraft to Nigerian Air Force against a sum of $184.3 million, to support the declining foreign exchange reserves.
Denel, Saudi Arabia, and Qatar: What we know | 26 October 2018 | DefenceWeb
In recent weeks there has been much public debate regarding the news that Saudi Arabian Military Industries (SAMI) is in talks with the South African government to take up a stake in Denel SOC, the state-owned defence company.
France pledges weapons and financial aid for Central African Republic | 2 November 2018 | The Defense Post
France will give its former colony Central African Republic weapons and €24 million ($27.4 million) in aid, Foreign Minister Jean-Yves Le Drian announced on Friday, November 2. "France wishes to continue its historical partnership with the Central African Republic," the minister told journalists in Bangui after meeting President Faustin-Archange Touadera.
AMERICA
The rise of ITAR-free procurement in Europe | September 2018 | Who's Who Legal
In this article, Roland Stein of Blomstein discusses International Traffic in Arms Regulations (ITAR), a US regulatory framework intended to control the manufacturing, export and proliferation of arms, related goods, services and technologies.
Swiss government scraps Ruag Brazil factory plans  | 6 September 2018 | Swissinfo
Switzerland's state-owned defence contractor, Ruag, has abandoned plans to build a factory in Brazil. The government told the company to stand down due to the reputational risk to Switzerland.
Top U.S. Diplomat Backed Continuing Support for Saudi War in Yemen Over Objections of Staff | 20 September 2018 |  The Wall Street Journal
Secretary of State Mike Pompeo backed continued U.S. military support for Saudi Arabia's war in Yemen over the objections of staff members after being warned that a cutoff could jeopardize $2 billion in weapons sales to America's Gulf allies, according to a classified memo and people familiar with the decision.
New U.S. Sanctions Target Russian Arms Deals | 21 September 2018 |  The Wall Street Journal
Public Guidance on Sanctions with Respect to Russia's Defense and Intelligence Sectors Under Section 231 of the Countering America's Adversaries Through Sanctions Act of 2017 | 20 September 2018 | Department of State
New sanctions on Russia, announced this week by the U.S., are meant as messages to other countries to curtail their purchases of Russian weapons, experts said. The U.S. on Thursday rolled out a number of sanctions measures implementing legislation signed last year that targets Moscow's intelligence operations and defense industry.
Trump's Saudi Delusions | 12 October 2018 | Slate
President Trump's refusal to cancel arms sales to Saudi Arabia, in response to the disappearance and likely murder of Washington Post columnist Jamal Khashoggi, is certainly cruel, cold, and callow—a dark parody of realpolitik foreign policy. But his rationale for doing so is also based on several false premises, and it reflects Trump's stunning weakness as an international negotiator.
Trump Says He Won't Scrap Arms Deal Over Missing Saudi Journalist | 16 October 2018 | 91.3 WESM
Why are U.S. arms sales to Saudi Arabia such a big deal? President Trump brought them up after the Saudi government was suspected of having a journalist killed. The president said he would look into that accusation, but he wasn't willing to halt U.S. weapons deals over it. Jennifer Spindel is an expert in international arms transfers and is at the University of Oklahoma, from which she joins us.
Nicaragua used 'weapons of war' to kill protesters, says Amnesty International  | 18 October 2018 | The Guardian
Weapons of war have been used to indiscriminately kill and injure anti-government protesters in Nicaragua, as part of the ongoing violent crackdown ordered by the upper echelons of government, according to an Amnesty International investigation.
ST Engineering se posiciona para fabricar el 'Terrex' 8×8 con Famae | 5 November 2018 | Infodefensa
Singapore Technologies Engineering planea fabricar el vehículo blindado Terrex 8×8 en asociación con Fábricas y Maestranzas del Ejército (Famae) si se adjudica el programa de adquisición de nuevos carros del Ejército de Chile.
ASIA
RUAG hand grenades possibly found in Syria | 2 September 2018 | RUAG
It is reported that hand grenades manufactured by RUAG have been found in Syria. Similar cases came to light in 2012 and 2016. These grenades could be from the batch delivered to the United Arab Emirates in 2003/2004, which may well, by way of a breach of contractual warranties, have found their way to Syria. The SECO investigated the incident in 2012, and actions were taken by the Federal Council. RUAG has not supplied any hand grenades to Arab countries since 2003/2004.
Syrian army receives BTR-70M APCs | 13 September 2018 | Army Recognition
The governmental armed forces of the Syrian Arab Republic (SAR) have received some BTR-70M armored personnel carriers (APCs), according to Syrian media outlets. An armour unit of the Syrian Arab Armed Forces (SAAF) in northern Syria has taken the delivery of a batch of at least three BTR-70M 8×8 APCs. Previously, the SAAF operated ageing BTR-60 8×8 carriers and BRDM-2 4×4 armored reconnaissance vehicles (ARV). Several units were reported to be equipped with BTR-80 and BTR-82A APCs.
China's arms trade: a rival for global influence? | 17 September 2018 | The Interpreter
Against the backdrop of the recent China-Africa Defence and Security Forum, numerous articles have been written questioning the rationale behind the conference and the potential ramifications of a closer Sino-African relationship. Prime among those is the link between growing Chinese arms exports to the region and a way of securing greater geopolitical influence. The Belt and Road Initiative (BRI), announced in 2013, is one significant example where the economic expansion via the land (belt) and sea (silk road) has challenged the strategic interests of many states.
Elbit Systems unveils ATMOS M-46 130mm truck-mounted howitzer variant | 25 September 2018 | Army Recognition
At ADEX 2018 international defense exhibition, the Israeli company Elbit Systems is presenting for the first time its ATMOS M-46 130 mm truck-mounted howitzer to the Azerbaijani Armed Forces.
Expansion on the way for Kazakhstan Paramount Engineering | 26 September 2018 | DefenceWeb
Kazakhstan Paramount Engineering (KPE), a subsidiary of the South African headquartered Paramount Group, will collaborate in support of Kazakhstan's industrial capacity development by expanding the company into new aerial, land and maritime production lines.
Russia has started the production of T-90S tanks for Vietnam | 27 September 2018 | Army Recognition
According the website baodatviet.vn, Russia has started the production of first batch of T-90S main battle tanks for the Vietnamese army at the Uralvagzonvad plant in Russia. In July 2017, the Russian News Agency TASS has announced that Russian Company Uralvagonzavod will supply 64 T-90S main battle tanks to Vietnam.
A Look Back at a Questionable Tank Deal  | 28 September 2018 | Der Spiegel
The tanks were first deployed in combat three summers ago. In early August 2015, they rolled along Yemen's N1 highway, heading north to Al Anad Air Base. Their orders were to help government troops beat back the rebels.
M31 Guided MLRS rockets and M57 T2K missile systems to be sold to Bahrain | 2 October 2018 | Army Recognition
The U.S. State Department has made a determination approving a possible Foreign Military Sale to Bahrain of Guided Multiple Launch Rocket System Unitary Rocket Pods and Army Tactical Missiles System (ATACMS) Unitary missiles for an estimated cost of $300 million. The Defense Security Cooperation Agency delivered the required certification notifying Congress of this possible sale.
Saudi Al Shibl 4×4 light armored vehicles in service in Turkmenistan | 2 October 2018 | Army Recognition
The Turkmen army has put a Saudi-made light armored vehicle 4×4 into service: the Al Shibl.
Turkmenistan parades Al Shibl APCs  | 2 October 2018 |  IHS Jane's Defence Weekly
Turkmenistan has displayed what appear to be newly acquired Al Shibl 2 wheeled armoured personnel carriers (APCs) in a parade to mark the country's Independence Day on 27 October.
Aselsan launches Qatari joint venture | 5 October 2018 |  IHS Jane's Defence Industry
Turkey's Aselsan announced on 4 October that it had formally incorporated a joint venture (JV) with Qatar's Barzan Holdings the previous day.
Taiwan to buy more indigenous armament | 8 October 2018 | Army Recognition
Taiwanese-manufactured weapons such as lightweight rocket launchers will complement heavy weapons bought from the US. The Marine Corps of the Taiwanese Army, the island's military police and the coast guard are all considering placing large orders for weapons produced in Taiwan, as reported by the Asia Times.
Pakistan receives decommissioned MCMV from Belgium | 9 October 2018 |  IHS Jane's Defence Weekly
540 tone decommissioned Minehunter transported from Belgium to Pakistan | 29 June 2018 | Peters & May Ltd
Shipping company Peters & May Ltd has transported a decommissioned mine countermeasures vessel (MCMV) from Belgium to Pakistan.
New weapons contract between South Korea and the Philippines | 12 October 2018 | Army Recognition
In September 2018, two top arms companies from South Korea and the Philippines inked a key joint venture deal. While the initial scope of collaboration in the deal covers only firearms, it nonetheless put the focus on ongoing activity within the defense aspect of the Philippines-South Korea relationship.
Saudis Issued Dire Warnings Against U.S. Sanctions. But How Much Leverage Do They Have? | 16 October 2018 | The New York Times
The Saudis have warned that they could push oil prices to $100 or $200 a barrel, an act that would probably plunge the American and global economies into recession. They have suggested that United States defense companies could forfeit tens of billions of dollars in deals that could instead go to Russia or China.
Chinese President Xi Jinping pushes for stronger civilian military integration | 16 October 2018 | Army Recognition
On 15 October, Chinese President Xi Jinping called for a stronger cooperation between the military and civilian sectors. President Xi, also chairman of the Central Military Commission, made the remarks while presiding over the second session of the Central Commission for Integrated Military and Civilian Development, which he also heads.
Thailand shows interest to purchase Ukrainian BTR-4MV1 8×8 armored | 19 October 2018 | Army Recognition
According a press releases on October 10,2018, published on the official website of Ukroboronprom, the Ukrainian state defense agency for the military industry, the Naval forces of Thailand have showed interest to acquire the Ukrainian-made BTR-MV1, a new generation of 8×8 armored vehicle designed in accordance to NATO standards based on the BTR-4 Ukrainian-made 8×8 armored.
Five charts that explain Saudi Arabia's importance to the global arms trade | 23 October 2018 | Financial Times
Germany's decision to halt arms sales to Saudi Arabia following the death of journalist Jamal Khashoggi has underscored the way that the kingdom's military spending has become increasingly important to governments and businesses in North America and Europe.
Oil, Arms, and Counterterrorism: A Look At Saudi Options and How Far the Kingdom May Go | 23 October 2018 | The Atlantic Council
Far from putting an end to the story, the Saudi government's official explanation of what happened to Washington Post columnist Jamal Khashoggi at its consulate in Istanbul on October 2 has been met with a deluge of incredulity, sarcasm, and accusations that Saudi Crown Prince Mohammed bin Salman was responsible for both the murder and the cover-up that followed.  Given the wide opprobrium in the US Congress, media, and private sector, it is yet to be seen whether the West, particularly the United States, will punish Saudi Arabia with sanctions.
Au Yémen, cachez ces armes que la France ne saurait voir | 28 October 2018 | Libération
En 2017, l'Hexagone a vendu pour 2,6 milliards d'euros d'armes aux pays de la coalition combattant dans la région yéménite, qui vit une catastrophe humanitaire sans précédent, avec plus de 10 000 morts. Mais le gouvernement reste silencieux face à cette situation qui déroge aux traités internationaux.
EUROPE
Les exportations d'armes pas assez contrôlées | 3 September 2018 | Tribune de Genève
L'industrie de l'armement exploite des failles juridiques pour contourner les règles. Conséquence: des armes helvétiques se retrouvent aux mains de pays qui ne devraient pas en bénéficier.
Waffenexport-Verbote werden völlig legal umgangen | 4 September 2018 | Schweizer Radio und Fernsehen (SRF)
Die Finanzkontrolle zeigt in ihrem Bericht, wie eigentlich verbotene Waffenexporte in heikle Staaten wie Saudi-Arabien oder Katar dennoch möglich sind – und das völlig legal. Konkret dürfen Schweizer Rüstungsfirmen in einem bestimmten Rahmen unfertige Waffen, Waffenteile also, ohne grosse Hürden an Partner-Firmen liefern – in bestimmten europäischen Ländern und anderen Staaten, wie den USA.
Der ungeschwärzte Waffenexport-Bericht | 5 September 2018 |  Schweizer Radio und Fernsehen (SRF)
Im ungeschwärzten und vertraulichen Waffenexportbericht der Eidgenössischen Finanzkontrolle (EFK) findet sich eine Statistik zu den Ausfuhrgesuchen. Daraus wird klar, dass die Bundesverwaltung 2016 lediglich 29 Gesuche mit einem Wert von 17 Millionen abgelehnt hat. Dies gegenüber 2395 bewilligten Anträgen mit einem Volumen von 2195 Millionen Franken.
Uncensored report on arms exports reveals shortcomings | 6 September 2018 | Swissinfo
Regulations for exporting weapons are easy to exploit and the Swiss authorities approve almost all export requests for war materiel. These are some of the findings of an unredacted report by the Federal Audit Office (FAO) obtained by Swiss public television, SRF.
Higgins condemns UN security council over arms exports  | 7 September 2018 | Irish Times
President Michael D Higgins has taken aim at the world's most powerful countries, condemning the five permanent members of UN security council for being behind the bulk of global arms exports.
 'Trade over human rights': Britain drifts towards repressive regimes as no-deal Brexit looms | 12 September 2018 | The New Arab
As a no-deal Brexit looks increasingly likely, Britain's Conservative government risks drifting closer towards repressive regimes in the Middle East to compensate for economic vulnerability, while diminishing the country's influence over them, say analysts and human rights advocates.
Swiss arms exports still at odds with humanitarian tradition  | 12 September 2018 | Swissinfo
The government's plan to ease arms export rules has sparked controversy with critics warning it could endanger the neutral country's reputation and humanitarian tradition. A Swiss historian and author explains how this paradox has been a recurrent theme since the First World War. 
Spain makes U-turn on laser-guided bomb sales to Saudi Arabia | 13 September 2018 | The Guardian
The Spanish government has confirmed it will proceed with the sale of 400 laser-guided bombs to Saudi Arabia, days after saying the €9.2m (£8.2m) deal had been halted amid apparent concerns over the use of such weapons in the war in Yemen. Josep Borrell, the foreign minister, announced the U-turn on Thursday, saying the government had reviewed the contract and felt it had to be honoured.
VPK presented new version of its BTR-87 APC | 13 September 2018 | Army Recognition
Russia`s Military-Industrial Company (VPK) has upgraded its BTR-87 armored personnel carrier (APC). The modernized vehicle was demonstrated at the Army 2018 international military-technical forum held in Kubinka near Moscow on August 21-26.
Rosgvardiya to acquire Kalashnikov AK-204 carbines | 14 September 2018 | Army Recognition
Russia`s National Guard (Rosgvardiya) is planning to acquire a batch of Kalashnikov AK-204 carbines developed by the Kalashnikov Group (a subsidiary of Rostec state corporation), according to Russian media outlets. A source from the service said the Rosgvardiya would buy the AK-204 carbines "at an early date". He did not specify neither terms nor number of the firearms set to be acquired.
Spain tries to limit arms sales to Saudi Arabia – but following international law is expensive | 14 September 2018 | The Conversation
The Spanish government recently found itself confronting a deeply unpleasant dilemma: whether to help prevent violations of the law of armed conflicts or protect thousands of jobs at home. On September 3, the radio station Cadena SER reported that the minister of defence, Margarita Robles, intended to stop the delivery of 400 bombs to Saudi Arabia, whose bombing campaign in Yemen has claimed numerous civilian lives. While Robles's choice is consistent with the law on international arms transfers, it could seriously affect her government's commercial relationship with the Saudis while undermining the jobs of thousands of Spanish workers involved in the defence sector.
Rheinmetall and Rohde & Schwarz form joint venture | 18 September 2018 | Rheinmetall
Rheinmetall and Rohde & Schwarz have signed a notarized article of agreement for a joint venture company which the two technology groups will use to bid for two major Bundeswehr procurement programmes: MoTaKo (German military shorthand for "Mobile Taktische Kommunikation" or mobile tactical communication), and MoTIV, which stands for "Mobiler Taktischer Informationsverbund", or mobile tactical information network. Final establishment of the joint venture is still pending anti-trust approval. Rheinmetall will hold a 74.9% share in the new company, with the remaining 25.1% held by Rohde & Schwarz.
From fighters to tanks – Bulgarian firm offers all | 21 September 2018 | DefenceWeb
Amid all the hustle and bustle at Africa Aerospace and Defence (AAD) 2018 is a little stand for Jotov & Son Ltd, a Bulgarian arms dealer. As Slavi Tonev, the company's trade and marketing regional manager explained to defenceWeb, the equipment might be pre-owned – in this case by the Bulgarian military – but it's all battle proven, much of it in African conflicts, especially Angola in the 1980s, and thoroughly reconditioned.
German Federal Government approves arms exports to Gulf States | 24 September 2018 | Army Recognition
The Federal Government of Germany has authorized further arms exports to the Gulf States and other Middle Eastern countries. Deliveries go to Egypt, Saudi Arabia and Qatar, among others.
Serbia wants to buy Chaborz M3 buggies from Russia | 8 October 2018 | Army Recognition
Serbia plans to buy a shipment of three-seat Chaborz M-3 cross-country vehicles developed by the Russian Special Forces University, which is located in Gudermes, Chechnya, Daniil Martynov, the University curator and an aide to the head of Chechnya for the power-wielding bloc, told TASS.
Organisational and personnel decisions as part of the unbundling project | 11 October 2018 | RUAG
The Board of Directors of RUAG has made its first decisions regarding the unbundling of the company, a move proposed by the Swiss Federal Council. In line with their areas of activity, the two RUAG divisions – Aviation and Defence – will be integrated into the two new parts, with the working titles of "MRO Switzerland" and "MRO International".
Quand la France vend des armes qui répriment les civils  | 16 October 2018 | Libération
Dans un rapport publié mardi, Amnesty International documente l'utilisation, par les forces de sécurité égyptiennes, de matériels français. Une utilisation qui contrevient aux engagements internationaux de la France.
Jacques Monsieur–4 jaar cel | 19 October 2018 | Willy van Damme blog
De uit het Brabantse Lot afkomstige wapenhandelaar Jacques Monsieur kreeg vandaag van het Brusselse hof van beroep wegens illegale wapenhandel een effectieve celstraf van 4 jaar. Met daarnaast nog een boete van 1,2 miljoen euro. Het is een vrij grote verzwaring van het vonnis in eerste aanleg toen hij 3 jaar kreeg en een boete van 800.000 euro. De man zag er na het voorlezen van dat arrest dan ook aangeslagen uit.
Légende du trafic d'armes, Jacques «le Maréchal» Monsieur condamné à 4 ans fermes | 19 October 2018 | l'Avenir
Tchad, Iran, Indonésie, Mauritanie, Pakistan, Libye, ex-Yougoslavie, Chine, Burundi… Son tableau de chasse est impressionnant. Jacques Monsieur, surnommé «Le Marchéal» ou «The Fox», a trempé dans de nombreux conflits. Mais le petit homme discret, originaire de Hal, vient d'être condamné à Bruxelles.
Lithuania buys more G36 assault rifles | 19 October 2018 | IHS Jane's Defence Weekly
The Lithuanian Ministry of Defence (MoD) placed a follow-on order for G36 assault rifles from Heckler & Koch, the company announced on 16 October.
Vente d'armes à l'Arabie Saoudite: échange très tendu entre la FGTB et Amnesty International | 22 October 2018 | Radio-Télévision belge de la Communauté française (RTBF)
Faut-il arrêter toute livraison d'armes wallonnes à l'Arabie Saoudite ? La question revient sur le tapis suite à l'affaire Kashoggi. Et clairement, elle divise. Soir Première a donné la parole à deux invités aux avis opposés: Philippe Hensmans, directeur de la section belge francophone d'Amnesty International, et Nico Cué, secrétaire général de la centrale des Métallos de la FGTB.
De Croo pleit opnieuw voor wapenembargo tegen Saudi-Arabië | 22 October 2018 | Vlaamse Radio- en Televisieomroeporganisatie (VRT)
Vicepremier Alexander De Croo (Open VLD) roept nogmaals op tot een wapenembargo tegen Saudi-Arabië, naar aanleiding van de dood van Saudisch journalist Jamal Khashoggi. "Merkel heeft het voortouw genomen en de wapenexport vanuit Duitsland opgeschort, het zou goed zijn moest België dit als eerste land volgen", zegt De Croo in "De ochtend" op Radio 1. 
La morale ou les millions ? L'Europe et ses ventes d'armes à Riyad | 22 October 2018 | Euronews
"Il est faux de dire que l'Arabie saoudite est un grand client aujourd'hui de la France", déclarait il y a dix jours Emmanuel Macron, au sujet du deuxième acheteur d'armes françaises de la décennie. Un point sur les chiffres alors que sont relancés les appels à geler ces exportations vers la monarchie du Golfe.
Merkel will Waffenexporte an Saudi-Arabien stoppen | 22 October 2018 | Nordbayern
Allein in den ersten drei Quartalen hat die deutsche Regierung Rüstungsexporte nach Saudi-Arabien von 416,4 Millionen Euro genehmigt. Nun schlägt der Fall des getöteten Journalisten Khashoggi hohe Wellen. Die Kanzlerin setzt ein Stoppsignal.
This is how much money powerful governments spend on arms with Saudi Arabia | 22 October 2018 | iNews
Governments have come under increased pressure in recent weeks over their relationships with Saudi Arabia. Washington Post journalist Jamal Khashoggi vanished around two weeks ago during a visit to the Saudi consulate in Istanbul, and the gulf state has faced international condemnation since.
Khashoggi's Disappearance Is a Test for Britain | 22 October 2018 | The Atlantic
When news broke this year that the former Russian spy Sergei Skripal and his daughter Yulia had come into contact with the deadly nerve agent Novichok in the English city of Salisbury, the United Kingdom acted fast.
EU-Kommissar Oettinger will Waffenexporte nach Saudi-Arabien vorerst nicht stoppen | 22 October 2018 | Der Tagesspiegel
Nach dem Tod des saudiarabischen Journalisten Jamal Khashoggi hat sich EU-Kommissar Günther Oettinger (CDU) gegen einen sofortigen vollständigen Stopp von Waffenexporten in das Königreich ausgesprochen. Zwar könnten Entscheidungen über "einzelne Rüstungsexporte" zurückgestellt werden, sagte Oettinger den Zeitungen der Funke Mediengruppe. "Eine grundsätzliche Entscheidung sollte man aber erst treffen, wenn eine umfassende Aufklärung geschehen ist – oder wenn man Vertuschung bei den Saudis vermuten muss."
La France, ce si discret marchand d'armes | 23 October 2018 | Télérama
Mon pays fabrique des armes (video) – Émission du mardi 23 octobre 2018 HD
Alors que l'Allemagne et le Canada envisagent d'interrompre leurs exportations d'armes vers l'Arabie Saoudite suite à l'affaire Khashoggi, la France se mure dans le silence. Raison de plus pour regarder "Mon pays fabrique des armes", une enquête explosive sur cette filière diffusée ce mardi 23 octobre sur France 5.
Suspendre les ventes d'armes à Ryad ? Macron refuse de répondre | 23 October 2018 | La libre
En visite au salon Euronaval, Emmanuel Macron a refusé de répondre mardi aux questions sur un éventuel arrêt des ventes d'armes de la France à l'Arabie Saoudite, comme l'a demandé l'Allemagne à tous les Européens.
Que représentent les exportations d'armes françaises vers l'Arabie Saoudite ? | 23 October 2018 | Libération
L'Hexagone, troisième exportateur de matériel militaire vers Riyad après les Etats-Unis et le Royaume-Uni, ne semble pas vouloir changer sa politique malgré l'homicide de Jamal Khashoggi.
Spanish High Court probes 23 years of bribery in arms sales to Saudi Arabia  | 24 October 2018 | El Pais
Spain's High Court, the Audiencia Nacional, is investigating 23 years' worth of arms sales to Saudi Arabia during which executives at a state-owned company allegedly paid millions in bribes to secure contracts. Judge José de la Mata is examining five transactions made from 1992 to 2004 between Riyadh and a company named Defex, as well as 11 other contracts signed between 2005 and 2014, according to Spanish and Swiss legal documents that EL PAÍS has seen.
Patria-Affäre: Wolf in Slowenien wegen Geldwäsche vor Gericht  | 24 October 2018 | Industrie Magazin
Der österreichisch-slowenisch-kanadische Geschäftsmann Walter Wolf steht in Slowenien wegen Vorwürfen der Geldwäsche in Zusammenhang mit der Patria-Schmiergeldaffäre vor Gericht. Bei der Anklageverlesung vor dem Bezirksgericht in Maribor plädierte der 79-Jährige auf nicht schuldig, berichtete die Nachrichtenagentur STA.
Vente d'armes … Macron galvaude dangereusement le mot 'démagogie'! | 29 October 2018 | Thomas Legrand | France Inter
Vous revenez sur ce mot d'Emmanuel Macron… je cite : 'c'est pure démagogie que de dire qu'il faut arrêter de vendre des armées à Riad'… Cette phrase appelle deux réflexions. La première, toute simple : est-ce vrai ?
Gel des avoirs libyens: nouveau scandale d'État? | 29 October 2018 | Radio-Télévision belge de la Communauté française (RTBF)
Nouveau rebondissement dans l'affaire des fonds gelés de l'ex-leader libyen Mouammar Kadhafi. Notre rédaction a mené l'enquête depuis plusieurs semaines et a récolté des informations exclusives. Une source proche du dossier indique sous couvert d'anonymat que le gouvernement belge aurait joué un rôle dans le financement de milices libyennes responsables de trafics d'êtres humains.
RRS-MITCOS founded | 30 October 2018 | Rheinmetall
RRS-MITCOS is the short form for a new joint venture which Rheinmetall and Rohde & Schwarz have set up to meet the German military's requirement for integrated operational and communications systems. First and foremost, Rheinmetall and Rohde & Schwarz want to play a leading role in digitizing Germany's ground forces. This major programme encompasses an investment volume of several billion euros.
Bulgaria's arms exports up 20 percent to €1.2 billion in 2017  | 31 October 2018 | The Defense Post
Bulgaria's booming arms trade continued to grow in 2017 with arms and ammunitions exports topping €1.2 billion ($1.4 billion), an official report showed on Wednesday, October 31. Conflicts in the Middle East have boosted Bulgaria's arms sales in recent years to levels not seen since the fall of communism in 1989.
La Armada adquiere pistolas y ametralladoras a través de SDAL | 5 November 2018 | Infodefensa
La Armada española ha adquirido ametralladoras Minimi y pistolas P9 17 del fabricante belga FN Herstal junto con accesorios por un importe superior al millón de euros -1.154.836,93 euros, impuestos incluidos-. El contrato se gestionará a través de la empresa española Equipamientos SDAL.