The European Instrument contributing to Stability and Peace (IcSP) engaged IPIS in a multi-year programme addressing the contribution of globalised mineral supply chains to the development and prolongation of violent conflict in sub-Saharan Africa. 
Awareness of so-called "conflict minerals" since the early 2000s has seen responses from intergovernmental initiatives, such as the Kimberley Process Certification Scheme, the OECD Due Diligence Guidance on Responsible Minerals Sourcing and the International Conference of the Great Lakes Region's Regional Initiative against the Illegal Exploitation of Natural Resources, though with limited success.
The general aim of IPIS' IcSP-funded programme is to fill identified gaps in research, information provision and capacity in the responsible sourcing sector. The programme will run for three years with a view to rendering key stakeholders in multi-stakeholder initiatives, state officials, business practitioners and civil society organizations in Africa, better informed and better aligned to advance responsible sourcing contributing to peace and sustainable development.
A second objective of this programme is to empower Central African civil society actors to play a more effective role in peace, development and responsible sourcing initiatives and to become more resilient to a rising number of threats currently facing CSOs on the
African continent and beyond, including data security threats, intimidation and censorship.
Finally, IPIS aims at providing industry, government and civil society practitioners with quality data streams that keep them up to date with developments in the conflict minerals field to facilitate reflexive decision making. Under this facet of the project, periodic briefings, incident reports and reflection papers will be provided in easily digestible and accessible formats.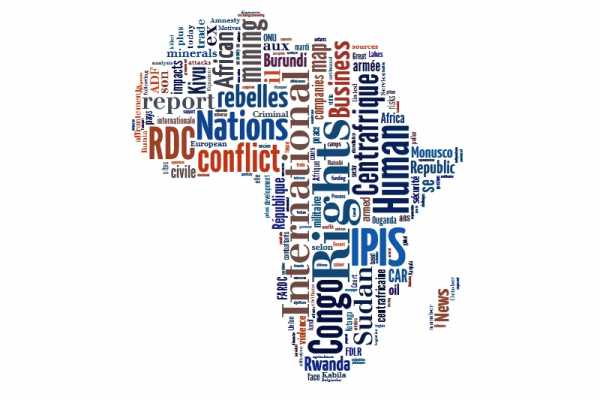 The IPIS briefing offers a selection of articles, news and updates on natural resources, armed conflict, Business & Human Rights and arms trade. Every month, an editorial and related publications shed a light on a specific topic in IPIS' areas of research.
With the «Voices from the South» project, IPIS facilitates a series of publications from local partners in order to bring their work to a larger audience. IPIS provides editorial and methodological support.
With its series on Due Diligence, IPIS informs its audience on responsible sourcing, its frameworks and how to apply them and the challenges and pitfalls in its implementation.
Since the outbreak of the COVID-19 pandemic, IPIS closely monitors the impact of the pandemic on 3T+G mines and national supply chains in Tanzania, the Central African Republic (CAR) and the DR Congo. Through structured quantitative and qualitative data collection, IPIS measures the impact on a large amount of mining sites.
IcSP supports "Kufatilia", an independent, transparent and participatory platform for incident reporting and community empowerment in responsible sourcing in the eastern DRC artisanal mining sector.
Participation in Networks and Platforms 
IPIS supports the Coalition logistically and contributes to its work based on IPIS' expertise and experience in researching the (ir-)responsible exploitation of natural resources.
European Partnership for Responsible Minerals
IPIS is one of the founding members of the EPRM, a multi-stakeholder partnership with industry, governments and civil society. Within the EPRM, IPIS acted as focal point and liaison between the EPRM and civil society that are not in the EPRM.
Public Private Alliance for Responsible Minerals Trade (PPA)
IPIS is a member of PPA and sat on the PPA's board in 2019. As a representative of NGOs and CSOs, and as expert in the upstream supply chain of minerals, IPIS plays an important role in ensuring that policies, projects and objectives of the PPA are realistic and positively impact the miners on the ground.
This project is realised with the financial assistance of the European Union. The contents of the related outputs are the sole responsibility of the authors and can under no circumstances be regarded as reflecting the position of the European Union.